Overlooking a picturesque North Shore sunset, seven-time surfing world champ Layne Beachley sits down for a Talk Story session at Turtle Bay Resort's Surfer the Bar. With a crowd of guests seated before her, she opens up about a wealth of issues, including how she envisions surfing evolving in the coming decades. The mood in the room is comfortable, with the guests sippin' on craft cocktails and savoring an array of dining options, and the crowd hangs on Layne's words. With Turtle Bay's own Rocky Cannon acting as moderator, these Talk Story sessions offer up a venue unlike anything else you'll find in the world. And now, through a partnership with action sports website Grind TV, Talk Story is about to become better than ever.
Although Talk Story has been an integral part of Turtle Bay for years—drawing in some of surfing's most esteemed figures—the Grind TV partnership will take the show to audiences worldwide through emerging technology like Facebook Live, where viewers can see the entire show as it happens.
"We're very excited to be a part of this franchise," said Aaron Carrera, General Manager of Grind TV. "We pride ourselves on being a gateway into the action sports world, so being able to partner with Turtle Bay and the Talk Story sessions felt like a great partnership. Through our platforms and models like Facebook Live, we're looking forward to sharing this great content with the entire world."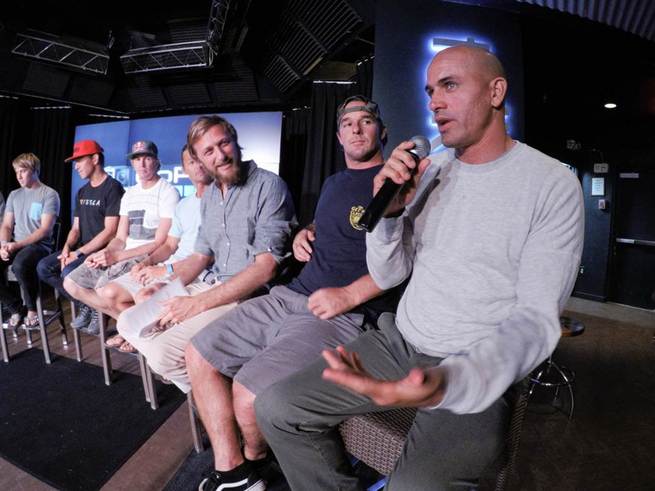 In addition to the likes of Layne Beachley, Ocean Ramsay, and a host of others, Talk Story recently sat down with legendary Hawaiian waterman Brian Keaulana, discussing a wealth of topics, including the legacy of his family, how the ocean has been a teacher, the role of well trained lifeguards, and this year's infamous Eddie event. It was truly an amazing event, and should spark the interest of any surfer or surf fan worth their salt. "Talk Story is such a great opportunity for our North Shore community and visiting guests to come together for a night of great story telling and sharing of fun, useful information. It's so great when you realize that you're actually in a 'bar' but you could hear a pin drop because everyon is so engaged to what the guest is sharing," added Rocky Cannon, who hosts the event. "I am so appreciative of the GrindTV team taking the Talk Story brand out to the rest of the world. Sure it's great to be there live, but for the tons of folks that can't make it to Surfer The Bar, it gives them the chance to hear great stories."
Whether you call the North Shore home, are visiting Turtle Bay, or want to stay up to speed with some of world's most esteemed athletes, you'll find it at Talk Story. Watch it live at Surfer the Bar or through Grind TV.