 10 Turtle Bay Transformations | July 1, 2021
This summer, a wave of amazing experiences are in store for new and returning guests alike.
It's been a year since guests last relished Turtle Bay Resort. We have missed sharing everything that makes Turtle Bay such a treasured Hawaii destination with you. Now in the summer of 2021, a wave of amazing experiences are in store for new and returning guests alike. When you visit Oahu's only full-service resort on the North Shore, there are several transformations that will make your Hawaiian getaway even more memorable.
Los Angeles-based designer and architect Dianna Wong spearheaded Turtle Bay Resort's redesign. Wong's expansive career includes high-end hotels, resorts, casinos,  restaurants and private homes around the world. 
"Coming out of a difficult year, I believe adventure and exploration is the cure, and there's no better place for this than Turtle Bay," said Wong. "As you arrive at the resort, stress just seems to leave the body as you become immersed in the life-giving elements  of light, waves, wind and water."  
With a host of exclusive elevated experiences at the resort, you will discover a deeper connection to the North Shore's outdoor adventures and rich surf culture. Here are Ten Turtle Bay Transformations:
1. New Logo
The Hawaiian honu (sea turtle) has returned to our logo with a more rooted meaning. The turtle's shell is a breadfruit or 'ulu leaf. To Hawaiians past and present, 'ulu is an iconic, cultural symbol of abundance. 'Ulu is integral in Hawaiian culture, used not only for food and wood but also storied as the Hawaiian god Kū's body form.
In Hawaiian legend, the god Kū lived secretly among humans as a farmer.  But famine hit the land. Kū convinced his wife of a solution that would keep the people from starvation, but it would mean his departure. He submerged into the soil until only the top of his head remained visible. Day and night, his family remained at the site, his wife watering the ground with her tears. Unexpectedly, a green shoot sprouted, and evolved into a leafy, lofty 'ulu tree, bearing breadfruit that the family and neighbors consumed, saving their lives.
Turtle Bay Resort will have 'ulu throughout various areas of the resort's farmlands.  
2. New Entrance
By embracing Oahu's history, design, food, culture and folklore, we  pay homage to the island's dynamic heritage and reinvent it from the moment you arrive.
Every aspect of the arrival experience has been redesigned, beginning with a relocated porte cochere that welcomes guests into a dramatically transformed lobby.
3. New Lobby
The Lobby boasts massive windows that welcome light into the room and offer awe inspiring views of the seemingly endless stretches of beaches, surf and sky in either direction. To celebrate the local artistic community, the lobby features large-scale works of art by Hawaii-based artists including Nick Kuchar, known for his vintage travelogue-inspired designs, and Abigail Romanchak, who specializes in Native Hawaiian printmaking. 
A new lobby cafe, Ho'olana, greets guests with panoramic views of the sunrise while offering gourmet locally sourced coffees and light bites.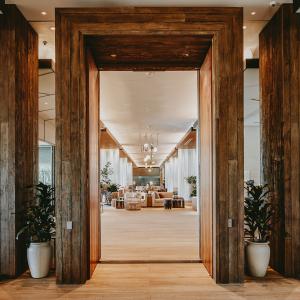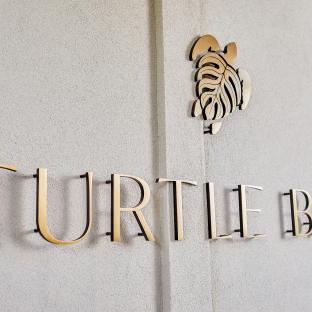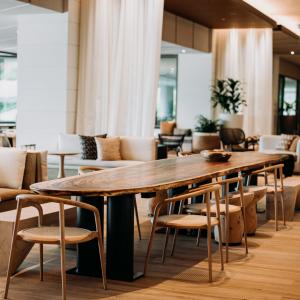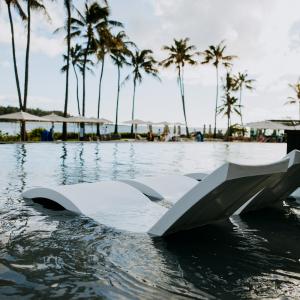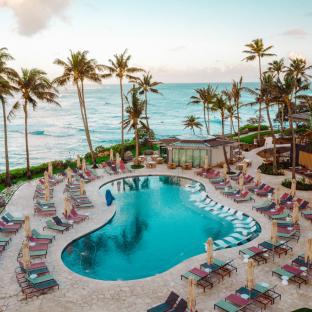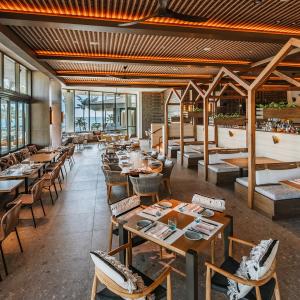 4. Adult-Only Pool and Off The Lip
Adults will indulge in the resort's adult-only infinity pool paired with the lobby bar, Off The Lip. The bar features a sunken footprint that provides unimpeded views of the breaking surf and brilliant North Shore sunsets. 
The adults-only pool serves as a tranquil respite perfect for sipping mai tais or getting lost in a great novel. 
5. Main Pool Deck Upgrade and Sunset Bar
The redesigned main pool deck offers an expansive space for family-friendly frolicking with a keiki pool and main pool for all ages. The pools invite all to savor front-row views of the crashing waves and surfers playing just beyond. The pool deck also features luxurious new cabanas and a new pool bar, Sunset, serving tropical drinks and delicious crowd pleasers like grilled mahi mahi sandwiches, pulled kalua pork nachos or smash burgers to guests as they swim, lounge or just soak in the view. 
6. Alaia Restaurant
The resort's main dining destination, Alaia, evokes relaxed luxury. Its menu incorporates the bounty of the North Shore's sustainable agriculture, including produce from the resort's own farm.
Alaia refers to the first Hawaiian surfboards, which were made out of wood. 
Be ready for a dining experience that focuses on locally grown vegetables, fruits and sugarcane fabricated in many of the dishes. Guests will have the opportunity to meet the farmers that inspire the unique menu, get personal with celebrity chefs and even learn how to make the best Mai Tais on the North Shore.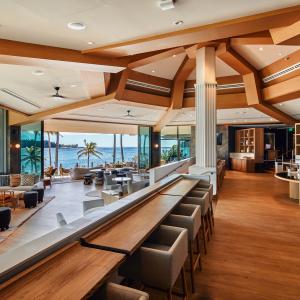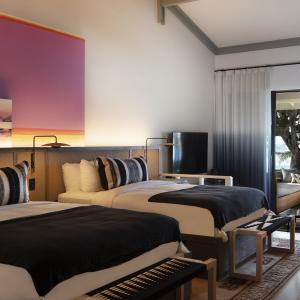 7. The Club Lounge
Vista Level guests can enjoy all the perks at The Club.  The premiere location offers stunning views of the Pacific Ocean. Guests can watch Humpback Whales splash and the magical colors of the sunset while savoring delicious appetizers and drinks.
8. Surf House
A new retail space and gathering place named Surf House, is located in the lobby. Surf House celebrates surf DNA and its deep connection with the North Shore community. The Surf House will become a destination for surfers and fans of surfing  alike to come together and celebrate the sport. The Surf House will feature tributes to surfing's icons and a curated retail experience including vintage surf gear. 
9. Ocean Bungalows
Grouped in clusters of six, The Ocean Bungalows provide an intimate, secluded experience within the larger resort, where an exclusive concierge tends to your every need.
10. Kuilima Farm
In Hawaiian, Kuilima means joining hands. It's a joint venture between the local community and Turtle Bay Resort. Kuilima Farm is a great place for guests and locals to mingle while enjoying the aina (land) and all it provides.  Watermelon, corn, bananas and so much more are grown fresh at Turtle Bay's Kuilima Farm. Guests will have the opportunity to tour the farm and get to know the farmers that provide for the resort's menus. Community members currently maintain and care for their own 10 x 10 plots at the farm as well.
We look forward to sharing these new experiences with you during your next visit to Turtle Bay Resort on Oahu's North Shore.
"We cannot wait to welcome guests and the North Shore community back this summer and for them to discover a new Turtle Bay Resort that is as dynamic and ever-evolving as the North Shore  itself," said Tom Donovan, Vice President and Managing Director of the resort. "With this redesign,  we are continuing to demonstrate the resort's deep commitment to providing outstanding  experiences for our guests and the community while serving as responsible stewards of this  magnificent land."
Turtle Bay is a destination rooted in deep cultural connections and soulful stories. We're always striving to go deeper and look forward to welcoming you in the summer 2021!