 Must See Stops On Your Way To Turtle Bay Resort - Windward Route
ALOHA! You just landed in Honolulu and are eager and excited to hit the road and embark on your journey to Turtle Bay Resort. There's just one problem, check-in isn't until 3 p.m. and you have time to kill. Lucky for you, there is so much to see, do and enjoy on your way to the only resort on Oahu's North Shore.
You can choose two different routes, one through central Oahu, or one along the east coast or what the locals refer to as the windward side. This blog post covers places you can stop coming to Turtle Bay Resort along the gorgeous windward side.
This route is 10-20 minutes longer than the central Oahu route but it offers some notable stops you can check off your Hawaii vacation to-do list - all before you check-in.
If you would rather take the central Oahu route, we have some cool stops along the way.
Hoʻomaluhia Botanical Garden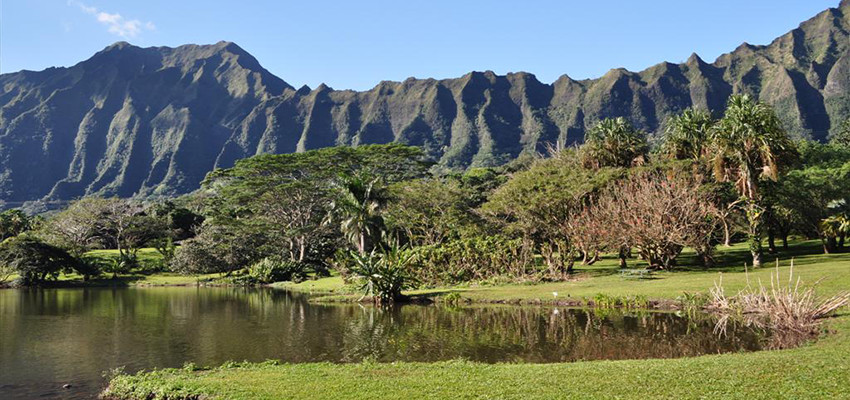 45-680 Luluku Rd. Kāneʻohe, Hawaiʻi 96744
Open 9 a.mm. M- 4p.m. daily
Ho'omaluhia means  "to make a place of peace and tranquility" in Hawaiian,Strolling or driving through these lush 400 acres in windward Oʻahu, you will truly agree that Hoʻomaluhia is rightfully named "a peaceful refuge."  Opened in 1982, this garden in Kāneʻohe features plantings from major tropical regions around the world grouped geographically. Geographical regions represented by our botanical collections: Philippines, Malaysia, Tropical America, India & Sri Lanka, Melanesia, Hawaii, Polynesia, and Africa. The Garden was designed and built by the U.S. Army Corps of Engineers to provide flood protection for Kāneʻohe.
Byodo-In Temple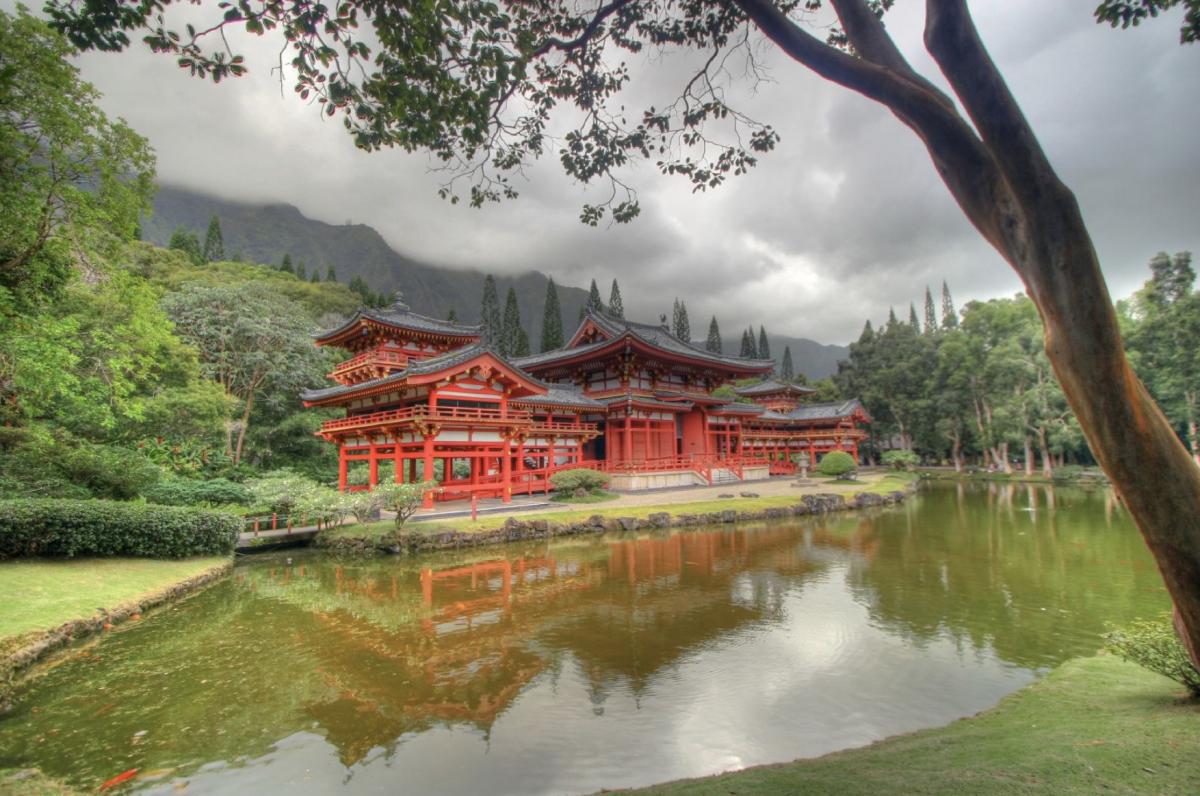 (Photo: Kristofor Gellert)
47-200 Kahekili Hwy Kaneohe, HI 96744
The Byodo-In Temple is a Buddhist temple located in the Valley of the Temples Memorial Park. The temple is a replica of a 900-year-old Buddhist temple at Uji in Kyoto Prefecture of Japan. Contrary to popular belief, it is not a functioning Buddhist temple in the proper sense as it does not host a resident monastic community nor an active congregation. Surrounding the temple are large koi ponds that cover a total of 2 acres and lush Japanese gardens set against a backdrop of towering cliffs of the Koʻolau Range.
Tropical Farms Macadamia Nut Farm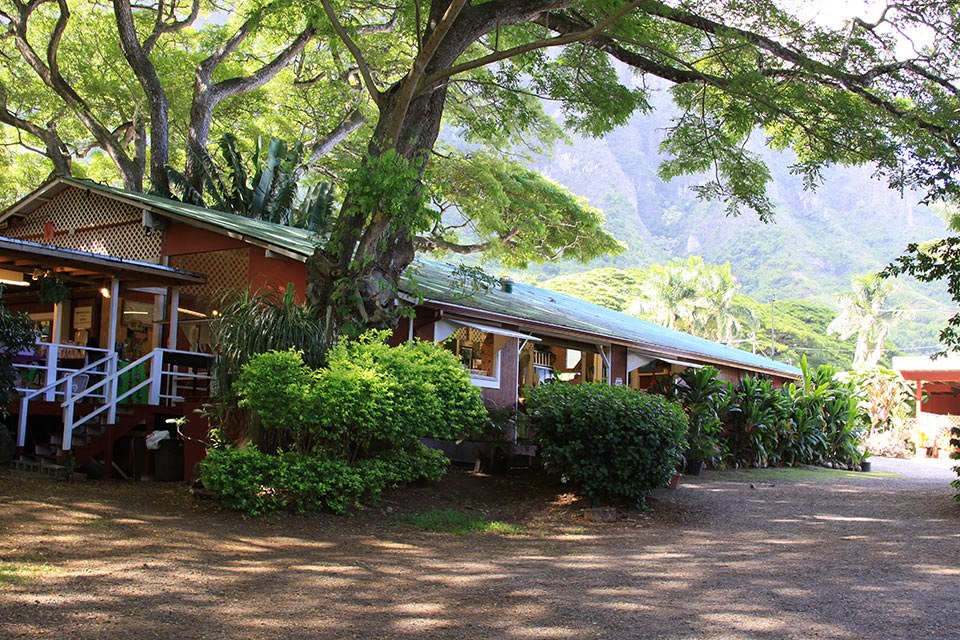 49-227A Kamehameha Hwy, Kaneohe, HI 96744
Open 7 days a week, 9:30 a.m. to 5:00 p.m.
Cost: Entry into the shop is free. They also have free coffee and free macadamia nut samples. You would be nuts not to enjoy some fresh macadamia nuts! At Tropical Farms Macadamia Nut you can do just that. Grab some mac nuts freshly fallen from the tree, break them open with a hammer and enjoy! Not into a nut job? The farm has a wide variety of macadamia nut flavors to choose from - and you can sample them all for free, no hammers needed. They also have free Kona coffee for you to savor while you look about the store, which has souvenirs and unique gifts.  If you want to hang out a little longer, there is an Ali'i Tour, which takes you around the plantation. You'll learn about Hawaiian history, customs, fruits, plants and of course, macadamia nuts.
China Man's Hat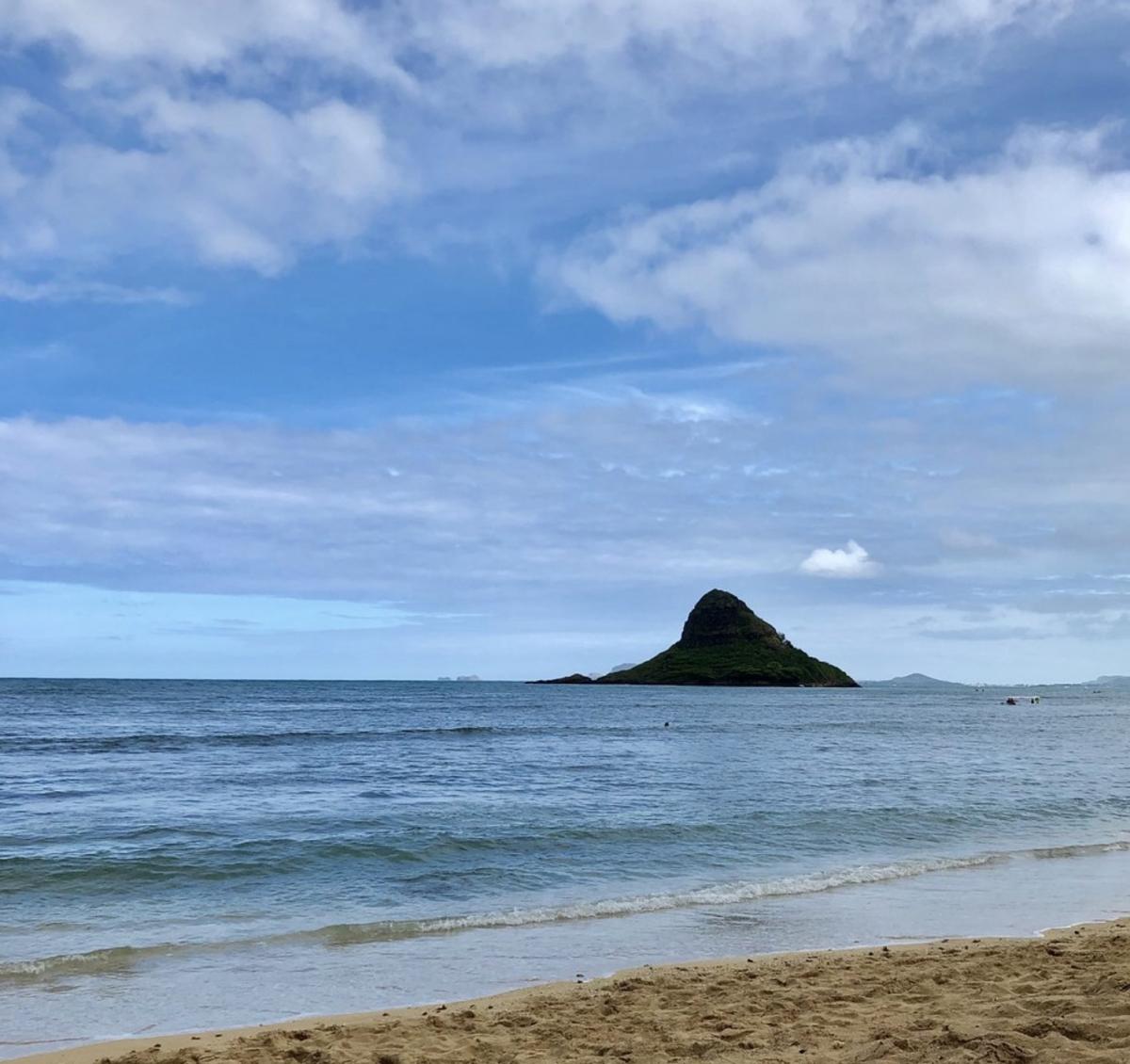 49-479 Kamehameha Hwy, Kaneohe, HI 96744
About two minutes down the road from the mac nut farm you will see an island that looks like a hat. This is Mokoli'i, also known among locals as Chinaman's Hat because of its shape.  However, ancient Hawaiian legend says it's actually the tip of a dragon or lizard's tail. Mokoli'i actually means "little lizard". As the legend goes, Pele (the Hawaiian fire goddess) had a sister named Hi'iaka, who came to visit the area. While she was there, she came across a large, vicious lizard. Hi'iaka fought the lizard and chopped off its tail. The lizard flopped to the ground, so its body created the Ko'olau Mountains, and its tail flew a few hundred meters away and created the island of Mokoli'i.
Kualoa Ranch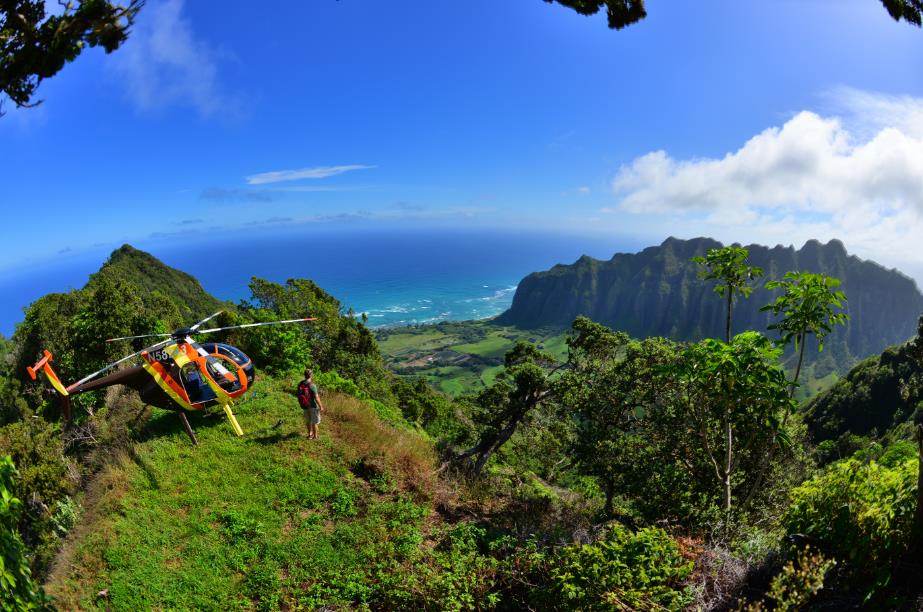 49-560 Kamehameha Hwy, Kaneohe, HI 96744
Across from China Man's Hat, you will see the commanding Ko'olau mountain range or the lizard's body from the Hawaiian legend. Nestled into the majestic mountains is Kualoa Ranch -  a 4000-acre private nature reserve and working cattle ranch. The ranch consists of 3 valleys: Kaʻaʻawa Valley, Kualoa Valley, and Hakipuʻu Valley. Jurassic Park, LOST, Jumanji and other films were shot here. You can take a film tour, horseback ride, ATV and zipline. There's also a gift shop and a place to grab fresh burgers and ribs, all made from the ranch.
Crouching Lion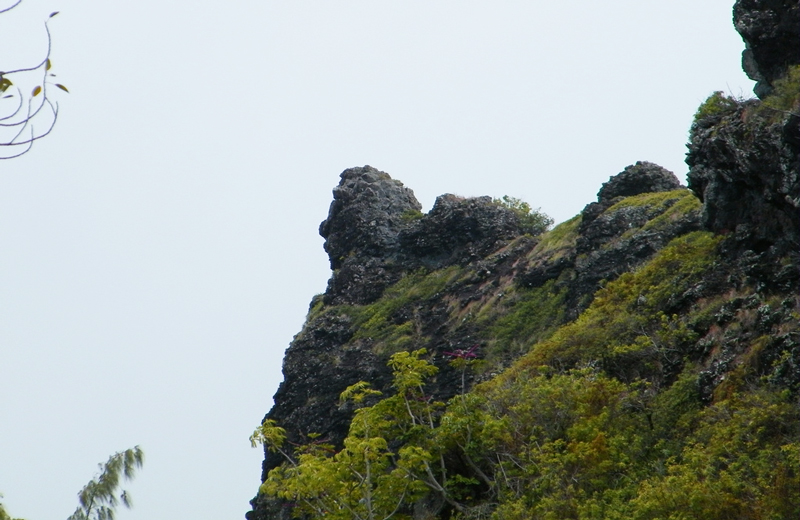 Kina Pl, Kaaawa, HI 96730
This stop doesn't really need to be a stop. You can simply look out the window at the mountains and you will see a rock formation that looks like a proud lion basking in the sun - hence its name, Crouching Lion. There is actually a hike that takes you to the lion and you can take in breathtaking views of Kahana Bay and surrounding ridges.
Kahana Valley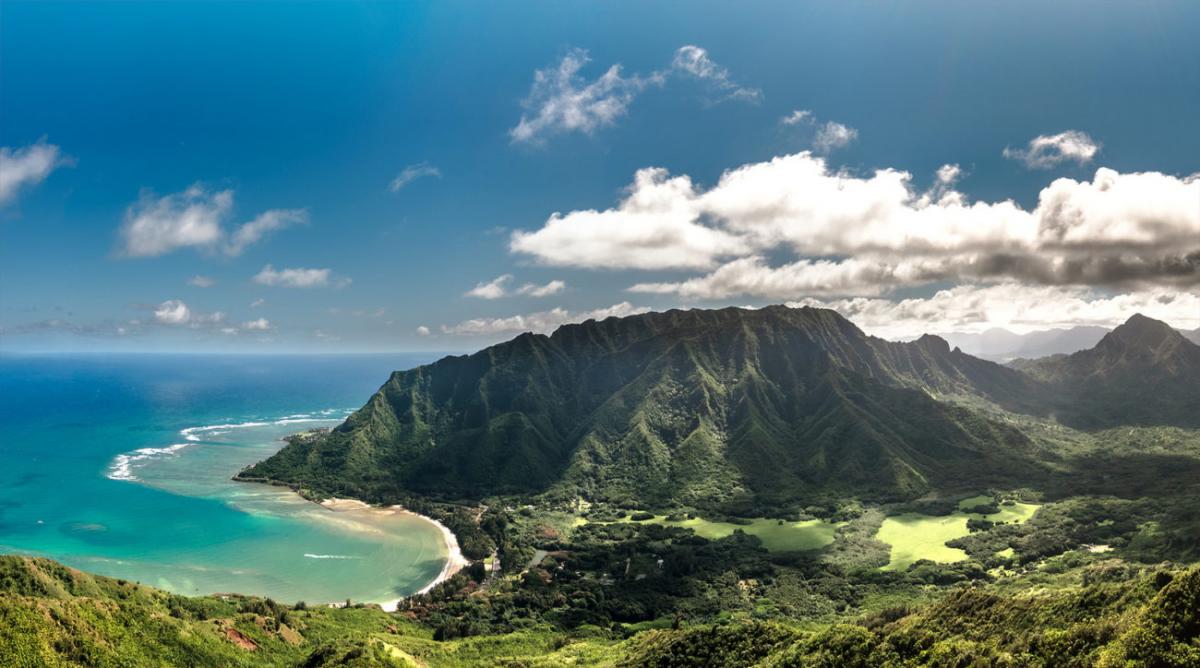 (Photo: ourstate.com)
52-222 Kamehameha Highway (Highway 83), Kahana.
If you want to stretch your legs and maybe get the sand between your traveling toes, you can stop at Kahana Bay. The long, white sand beach is great for a beach walk or quick dip. There is a restroom and showers here as well. Across Kamehameha Hwy you can explore inside Kahana Valley with a 4.9 mile hike.  Park open during daylight hours.
Pounders Beach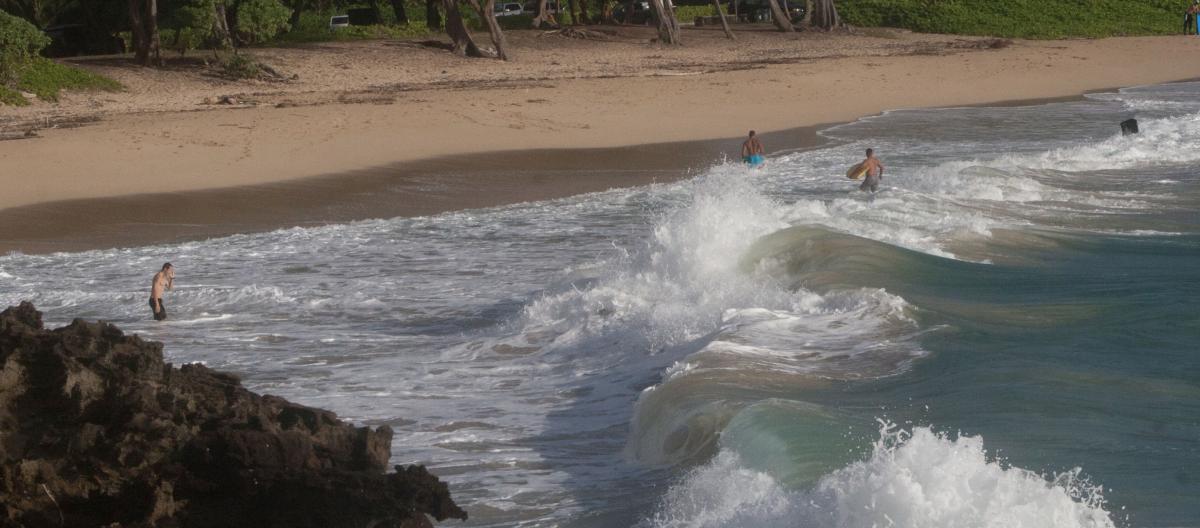 (Photo: activeoahu.com)
55-201 Kamehameha Highway, Laie, HI 96762
Another beautiful and popular beach among the locals to check out is La'ie Beach Park, aka Pounders.  La'ie Beach Park has waves year-round, but the waves are usually more consistent and higher in the winter months.
Polynesian Cultural Center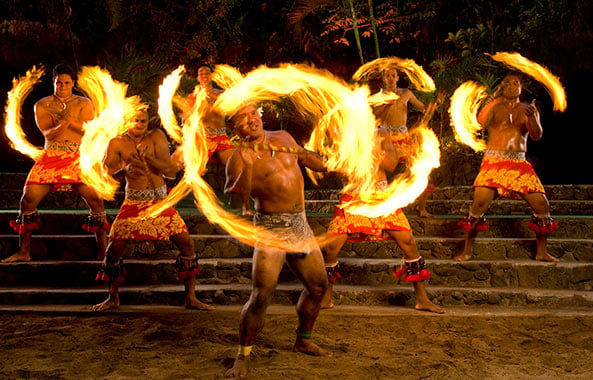 55-370Kamehameha Hwy, Laie, HI 96762
The Polynesian Cultural Center (PCC) is a must during your Hawaii vacation. Here you can learn about and be immersed in the amazing cultures of Polynesia. You can also savor an authentic Hawaiian luau, learn to do the hula and much more. PCC also has several local food trucks, shops and vendors at itsHukilau Marketplace. Grab some malasadas (deep fried donuts filled with chocolate, creme, and other flavors, then dipped in sugar), shave ice or fancy sodas at So Da Bomb.
Laie Point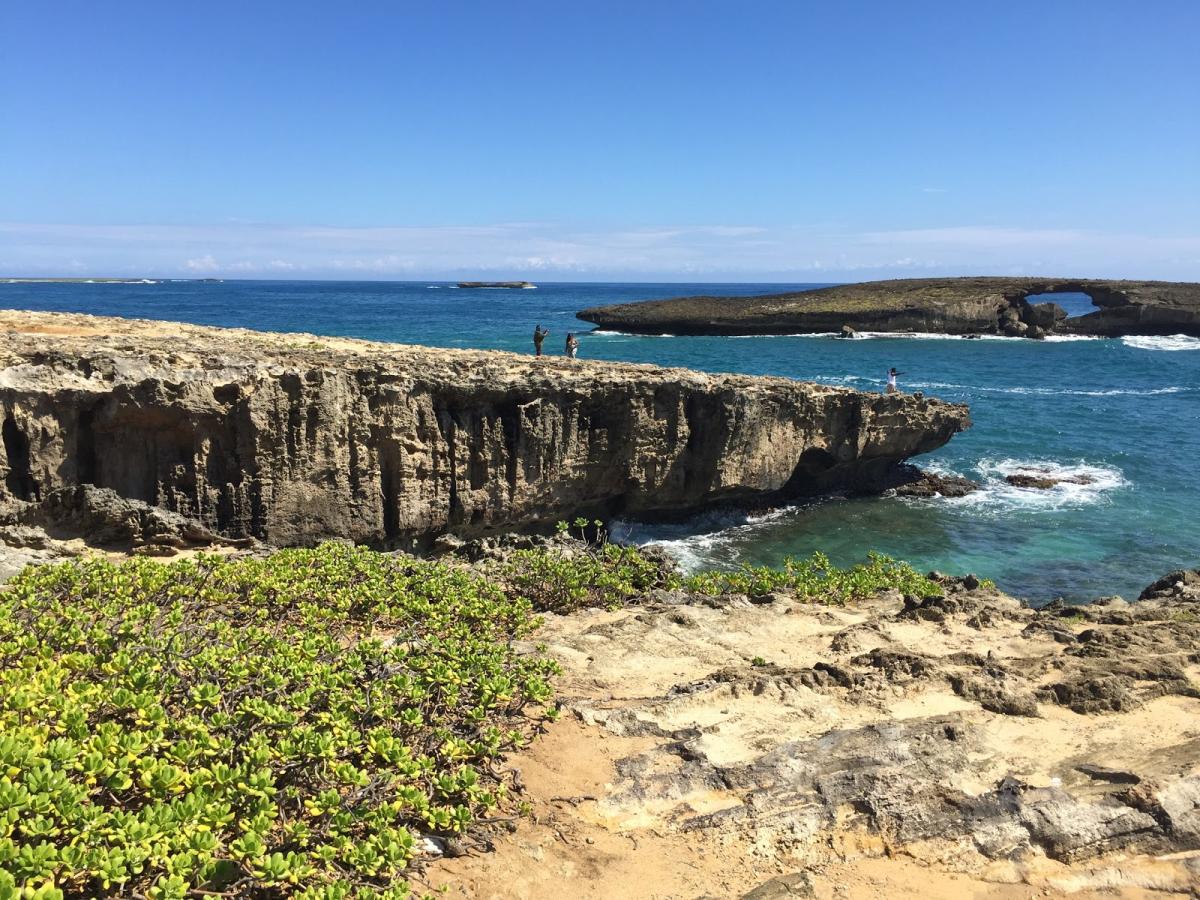 (Photo: AI A)
End of Naupaka Street, HI-83, Laie, HI 96762
Laie Point has starred in several movies. This is where Mila Kunis and Jason Segal jump off the cliff into the ocean in the film "Forgetting Sarah Marshall," which was filmed at Turtle Bay Resort. It actually is a popular cliff jumping spot for locals. However, if you aren't into taking the leap, you can still stop here to enjoy scenic views of the ocean lapping against the rocky coast and the offshore seabird sanctuary.  Parking is extremely limited, as the entrance is at the end of a residential dead end. Be mindful of the residents when parking, and also of the fact that the adjacent land to the park is privately owned. Also lock your car. There's no water fountains or restrooms in the park, so come prepared.
Laie Temple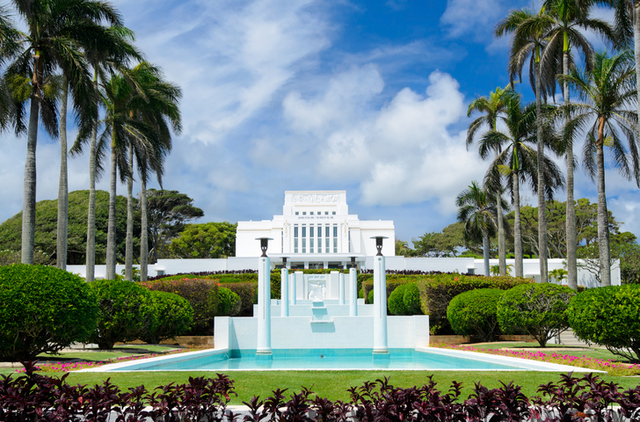 (Photo: LDSLiving.com)
55-600 Naniloa Loop, Laie, HI 96762
Laie Hawaii Temple is a temple of The Church of Jesus Christ of Latter-day Saints located on the northeast shore of the Hawaiian island of Oʻahu. The temple sits on a small hill, a half-mile from the Pacific Ocean. The beautiful building is a site to see no matter what religion or beliefs you hold. You are not allowed to go inside the temple, but there is a visitor's center you can visit.
Kahuku Superette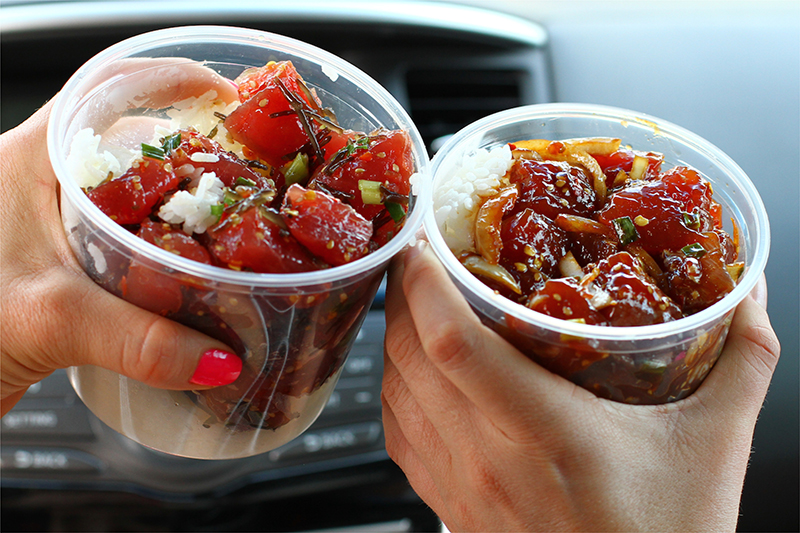 56-505 Kamehameha Hwy, Kahuku, HI 96731
Open 6:30 - 10 p.m. M- F
7 am - 10 p.m sat -sun
Okay, so if you are in Hawaii be sure to eat poke, aka raw fish. Kahuku Superette may look like nothing special, but do not let this mom and pop shop's appearance fool you. It is home to the world's best poke bowl! A poke bowl consists of rice covered in raw fish cut into cubes and seasoned to perfection. There are several different flavors, but the original poke bowl at Kahuku Superette with its snazzy secret sauce seems to take the cake. Try it out and let us know what you think.
Kahuku Food Trucks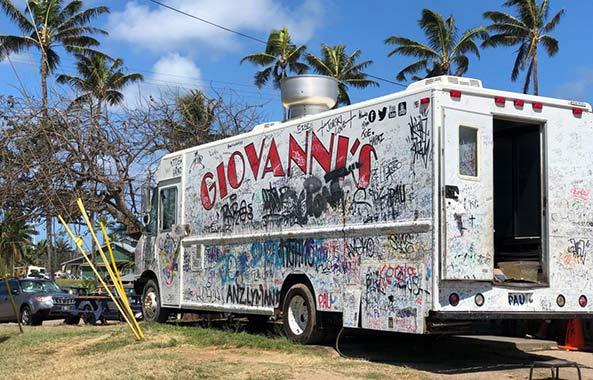 56-505 Kamehameha Hwy, Kahuku, HI 
If poke isn't your thing, or you are still hungry, there is a smorgasbord of food trucks right next to Kahuku Superette. There are more than a dozen food vendors to choose from. Whatever you are craving, they have it. There's tacos, pizza, Korean food, vegan, vegetarian, BBQ corn, Thai food, BBQ and Hawaiian food. There's also a coffee cart, frozen yogurt, Acai bowls, shave ice and funnel cake. 
Learn more about the flavors of the North Shore here.
Shrimp Farms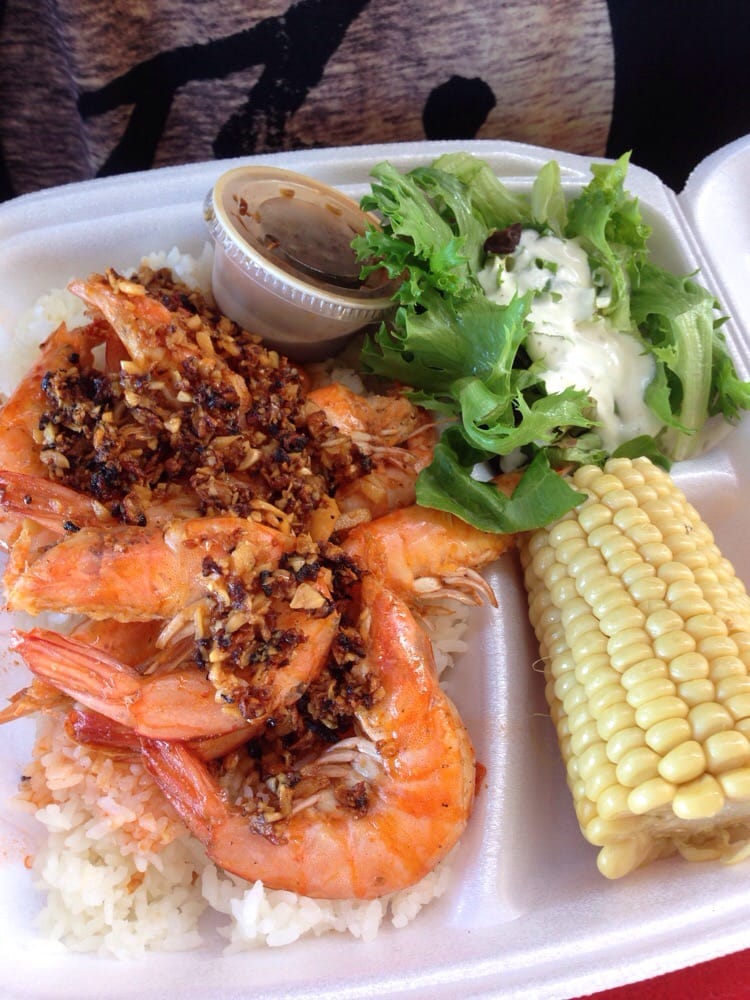 (Photo: Ardelyn F.)
56-781 Kamehameha Hwy, Kahuku, HI 
Are you still hungry? A few minutes down the road from the food trucks are local shrimp farms, famous for their garlic shrimp plates. Fumi's and Romy's shrimp stands front a local shrimp farm. 
Learn more here.
Kahuku Farms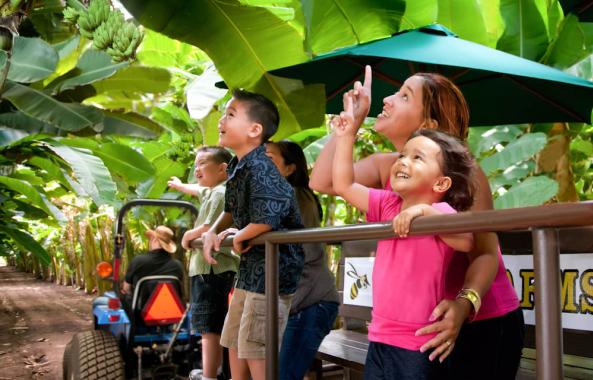 56-800 Kamehameha Hwy, Kahuku, HI 96731
Across from the shrimp farm is a locally owned and family operated farm - Kahuku Farms. Here you can grab farm fresh paninis and pizzas, smoothies, banana bread and acai bowls. They also offer farm tours.
Learn more here.
You are almost there! About a five minute drive from Kahuku Farms you will find yourself at Turtle Bay Resort. Hopefully now it's past 3 p.m. and you can check into your home away from home. Enjoy your stay on Oahu's famous North Shore.!
Need some ideas on things to do while you are here? We got you covered. See all the exceptional experiences here.