 Surfing Oahu: Hang Ten With Surfers Jamie O'Brien and Kaikea Elias
Meet professional surfers Jamie O'Brien and Kaikea Elias, co-founders of the Jamie O'Brien Surf Experience at Turtle Bay Resort.
For lifelong friends Jamie O'Brien and Kaikea Elias, Oahu North Shore surfing is a passion—and their new day job.
Professional waterman, surf champion, and North Shore native Jamie O'Brien is an expert at surfing Oahu waves, growing up right in front of the Banzai Pipeline and becoming one of the youngest surfers ever to master its breaks. In his more than 30 years of surfing (which kicked off at Turtle Bay!), he's conquered swells all around the world, from the North Shore to Tahiti and beyond. Kaikea Elias, former pro surfer, and Red Bull alum, has been by his side almost every step of the way. Their latest great feat? Launching the Jamie O'Brien Surf Experience, the premiere North Shore surf lessons on Oahu, and the exclusive surf provider at Turtle Bay.
Read on for the dynamic duo's favorite spots on the North Shore, their biggest wipe-outs, and more.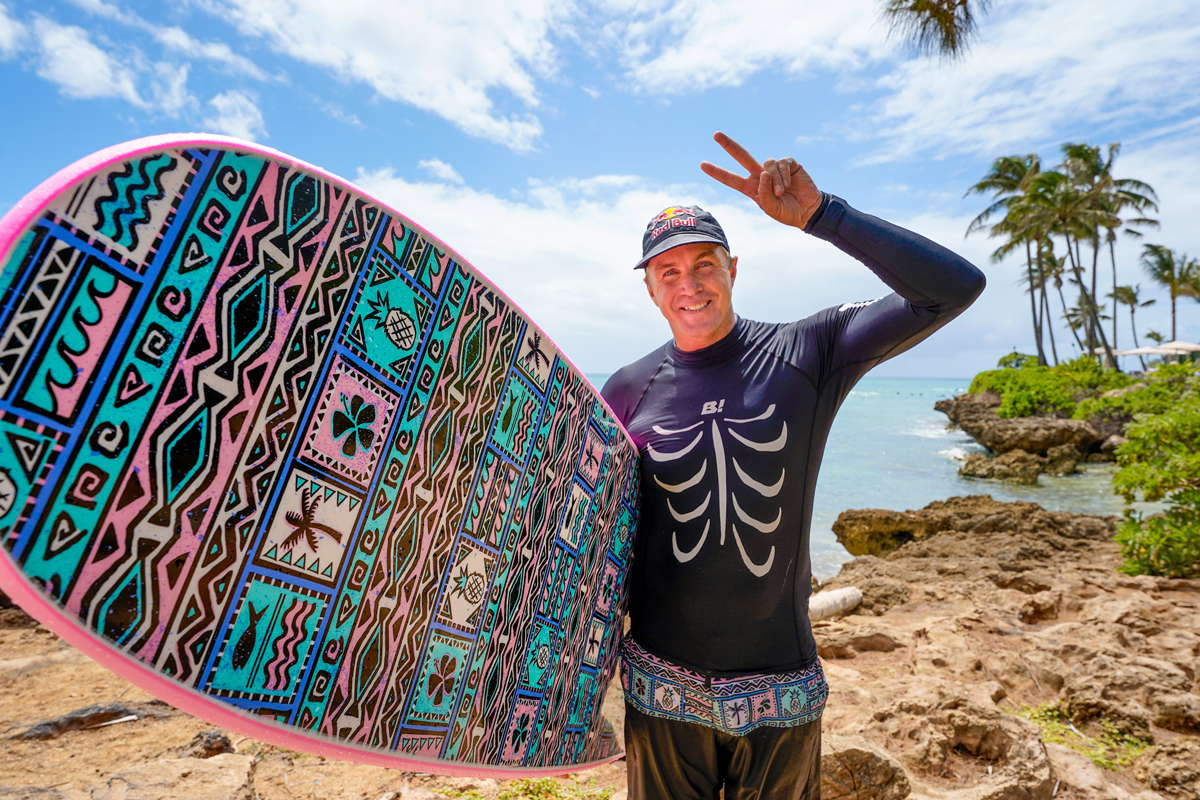 How did you both start surfing?
Jamie: I learned to surf in the Turtle Bay pool. True story! My dad worked here at the hotel and would take me into the pool with a surfboard and have me practice standing up as he pushed me around. Eventually, I graduated to the ocean and worked my way up to Pipeline where I made my career. Even though surfing is my job, nothing gets me more psyched than surfing perfect waves with my friends.
Kaikea: The story my mom likes to tell is that I stood up on a board the day before I turned two! I was lucky enough to grow up on Kauai with parents who loved to surf. I always tell people I can't remember a time I didn't surf, and since I started it's been a constant passion that my life revolves around.
How did the JOB Experience get its start?
Jamie: It's always been a dream of mine to have a surf school here on the North Shore, but what was most important to me was making sure we had the right venue. There was never any question that Turtle Bay was the ideal spot to bring our vision to life, and when an opportunity to work with this resort presented itself, it felt like years of planning and dreaming finally came together. Getting to share my love of surfing with the world and keeping people psyched is what fulfills me, and teaching people to surf at the best venue on the North Shore where I was born and raised is really special.
Kaikea: Starting a surf school together has been in the works for a long time, and getting to work with Turtle Bay Resort as well as my best friend really is a dream come true. We're just getting started, but seeing this business come to life from talks in the lineup at Pipeline and late-night brainstorm sessions to a real brick-and-mortar store where dozens of people every day leave with a smile is really rewarding. We can't wait to see where this journey takes us.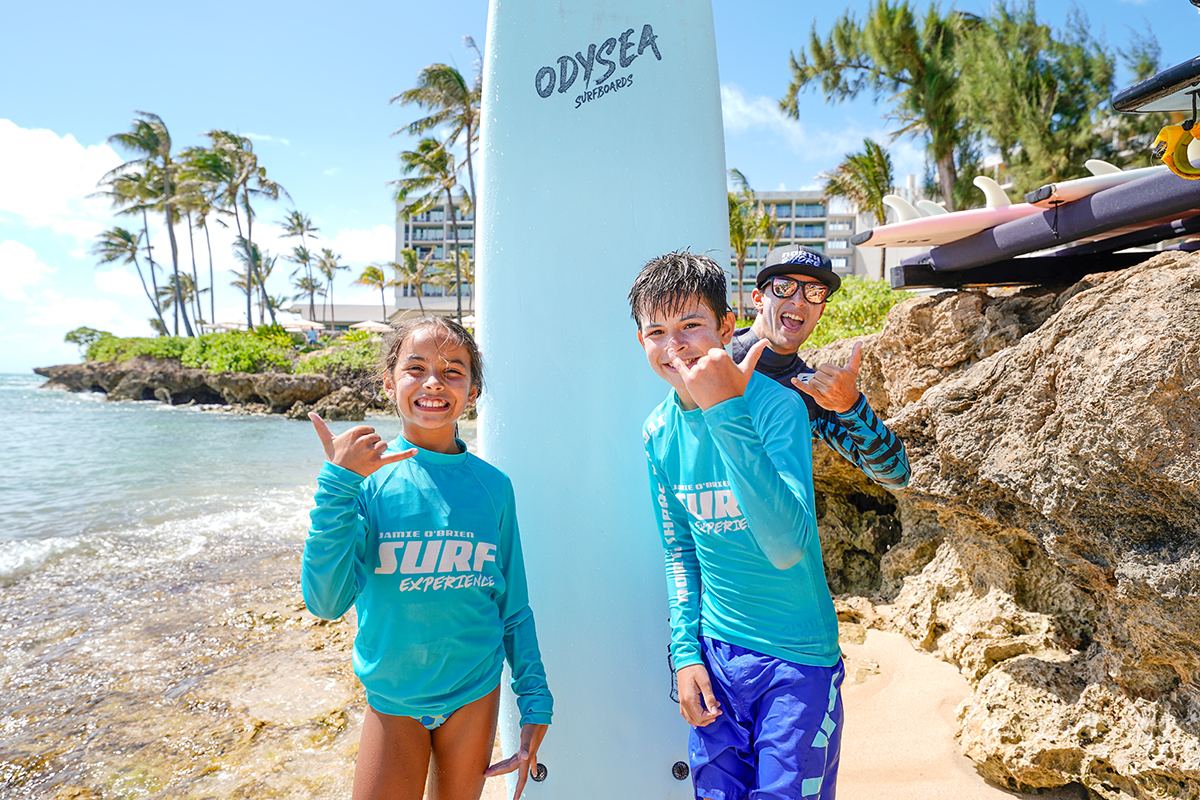 What's the most fulfilling part about running the JOB Experience? 
Kaikea: It's amazing to take guests surfing who are nervous or don't have a ton of experience in the water. You can tell when they check-in for their lesson that someone might have convinced them to be there or they're having second thoughts, but when they get out of the water their smile tells the whole story. It's extremely fulfilling to see these guests on the beach post-surf feeling like they just climbed Mt. Everest!
What's the coolest board/piece of equipment in the surf shop?
Jamie: We raffle off one of my personal boards at our shop every few months! These are boards that I ride at Pipeline and in our vlogs that guests can win and take home with them after they check out. All of them have their own stories and have ridden so many sick waves. I always get psyched picking out what board we are going to feature in our shop next. 
Kaikea: It's hard to beat the SUP Squatch! It's a 15-foot long inflatable surfboard that whole families can ride together. We use it for our turtle safaris at Kawela Bay as well as group wave riding, and every time we bust it out we get a lot of pictures and questions. There really isn't anything like it and people are always blown away by how big it is!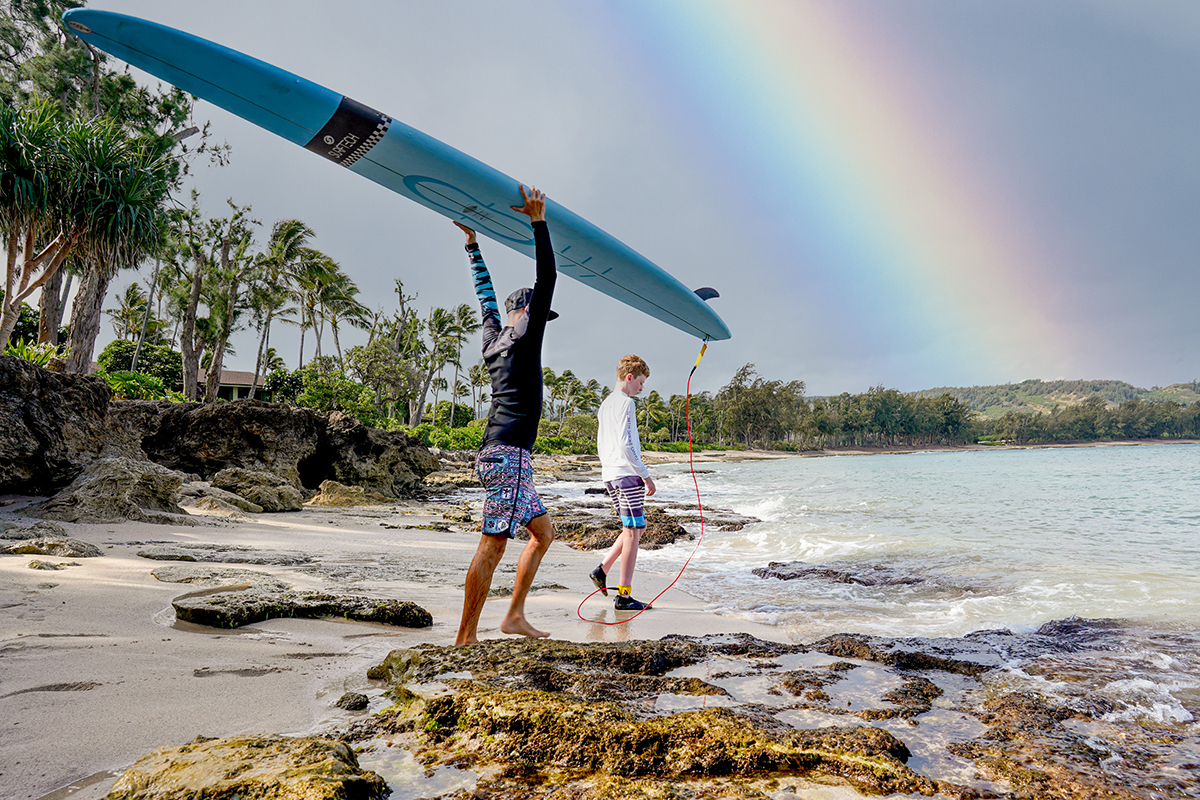 What's something a lot of people forget to pack but can get here? 
Kaikea: We always advise guests to bring reef-safe sunscreen to minimize harm to our ocean. Reef-safe sunscreen isn't as big outside of Hawaii, so it's usually easier for people to leave their sunscreen at home and pick some up here. We provide complimentary reef-safe sunscreen from our partners at Tropic Sport and have product for sale as well in our shop.
Jamie: The waves in Hawaii are different and more powerful than anywhere else on earth. If you want to surf here, I'd advise leaving your surfboards at home and picking up some local shapes, which were tailormade for local waters. There are a ton of amazing shapers like Wade Tokoro and Carl Schaper on the North Shore who can make you a custom board that's best for your ability and wave choice. You can also pick up a JOB Catch Surf from our shop. I personally ride them in waves up to 15 feet and they never disappoint!


What are your favorite beaches on the North Shore? 
Jamie: Pupukea Grill! It's my go-to place to eat. The team there is really amazing. There are days where I eat two or three meals here and it never gets old. Ask for the Hawaiian Bowl. You won't be disappointed. 
Kaikea: Waimea Bay is a special place. It's a world-class beach in the summer where you can sunbathe, swim, and jump off the rock. In the winter, you can see some of the biggest waves in the world, and the beach literally shakes when they break. There's also a valley with a beautiful tropical rainforest and waterfall you can swim in. It's a magical place you can't miss on the North Shore.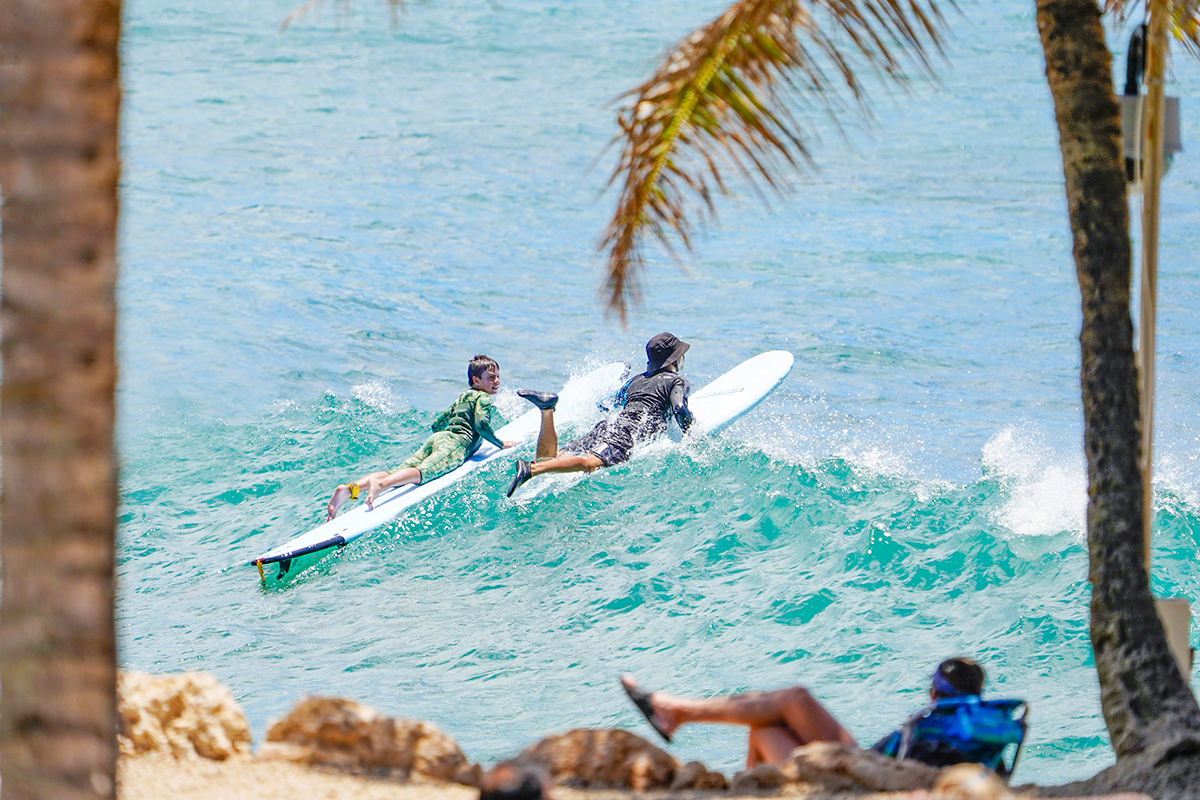 What's the secret to becoming a pro surfer?
Kaikea: You have to ask Jamie that one.
Jamie: You have to make your mark and do something different. There are so many talented surfers out there ripping so, so hard, and in this day and age just being a good surfer is not enough to make a career. You need to market yourself, build your own brand, put out content, and do it regularly. I'd say the secret to being a pro surfer is to treat it like a dream job: work hard, have fun, and do it your way!



Tell us about your sickest stunt and biggest wipe-out.
Jamie: I lit myself on fire and got barreled in Tahiti. 
Kaikea: I ran myself over with a jet ski.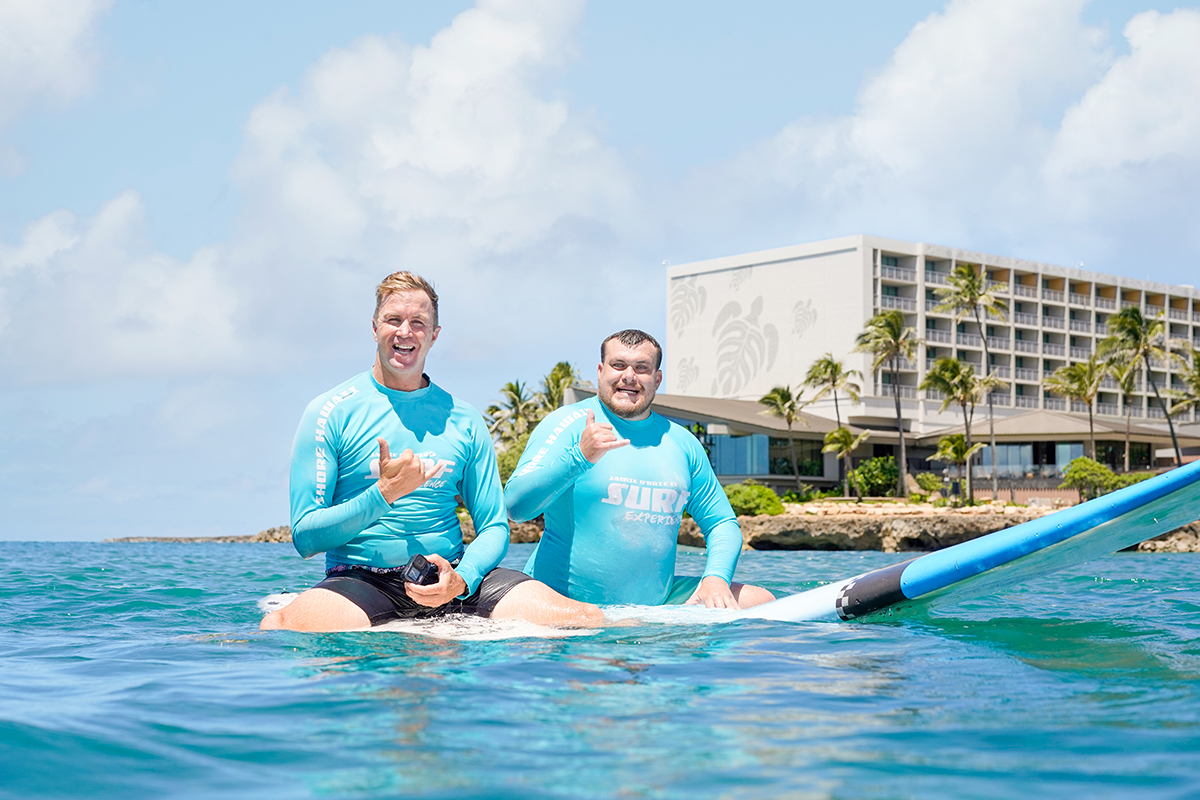 Ready for Oahu North Shore surfing? 
Surf with the pros at the Jamie O'Brien Surf Experience at the reimagined Turtle Bay by planning North Shore surf lessons on Oahu here.