Shark Snorkel & Marine Research
Mesmerizing, magical, mystical. We don't think you ever forget the experience or the trip that brings your face-to-face with a shark, locking eyes with this beautiful, misunderstood creature. They say there's plenty of fish—and sharks—in our seas. Come and meet some of them! On this Elevated Experience, you'll discover O'ahu's underwater delights in the expert hands of a world-renowned environmentalist.
Join the One Ocean Diving team, led by author and environmentalist Ocean Ramsey, to learn about their important Pelagic Program research on the marine life in Hawaii's coastal waters.
Then the highlight: swimming with sharks out of Haleiwa Harbor where the One Ocean crew will help you every step of the way, pull you down to dive, watch your back if you're diving on your own, or just make sure you're having a great time.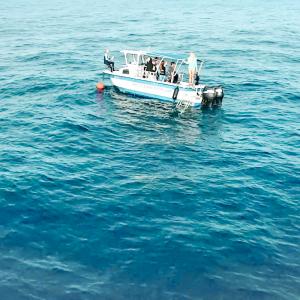 Then support shark research and conservation by adopting and naming your own shark, one you encounter on your dive! The photo identification program uses high-resolution photos to document our semi-residential pelagic community. Stay up to date with your shark via social media. Maybe he'll even be waiting for you on your return visit to Turtle Bay Resort.
Experiences
Dare to Discover
For the curious. For those who seek adventure or crave the unexpected. We long to connect visitors and guests to the authentic experiences and to inspire 'imi ola, to seek our best life
#OnlyAtTurtleBay