 Deeply Connected to the Land, Central to our Story
Imagine a place where the fruits, vegetables, and herbs used throughout its menus, dishes, and drinks (spa massages and scrubs, too!) are grown right on site. Where an on-property farm provides fresh produce not only to the resort but also to surrounding communities. Where you can visit its 468 lush acres to learn about the island of Oʻahu's agriculture, and even pick your own ingredients. Welcome to Kuilima Farms, a place that reflects the spirit, character, and natural beauty of the North Shore.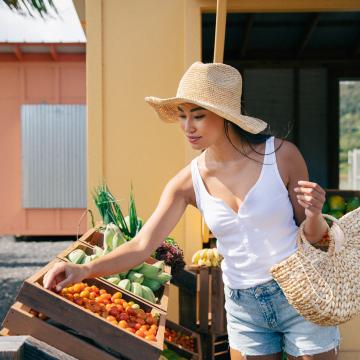 As Fresh As It Gets
Discover native crops such as Maiʻa (banana), Kalo (taro), 'Awapuhi (ginger), 'Uala (sweet potato), 'Uhi (yams), 'Ulu (breadfruit), and Niu (coconut). Corn, watermelon, beets, radish, peppers, tomato, cucumber, eggplant, squash, and okra are harvested here before making their way into Turtle Bay's flavorful menus and tempting cocktails, giving real meaning to the term farm-to-table. A 4,000 square-foot hydroponic greenhouse nurtures crops such as leafy greens and tomatoes. And a recently planted orchard will, when mature, produce a variety of fruits, from classic citrus and avocado to the more exotic like lychee, papaya, and star fruit.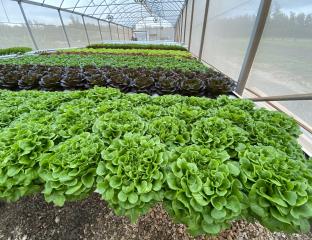 Share in Our Roots
An onsite wash and pack facility prepares fresh produce for sale. A new roadside farm stand welcomes locals and visitors to buy our farm fresh produce. And the community garden is home to produce grown by residents of Koʻolauloa.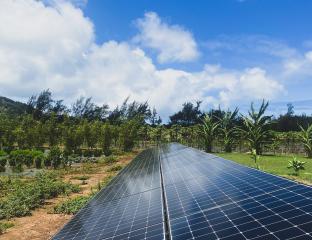 Sustainability First
Production, education, and experience lead the way. We lease space to local farmers, provide training in responsible farming practices, and operate with an ultimate goal of increasing Hawaii's food security.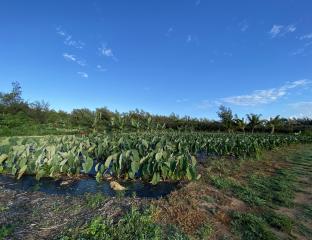 Laulima
Meaning many hands, Laulima is one of our values because we're never alone in the work we do. Improved irrigation systems, new road construction, teaching responsible farming practices, we work with Pono Pacific in helping to preserve, protect, and restore Hawaiʻi's precious ecosystems. Stories from The North Shore
Authenticity. There's nothing more real and inspiring than the stories of the people, the culture and traditions, and the rich everyday life of the North Shore. Stories to share, and to live.
Read More Stories