 Pools & Beaches
Turtle Bay embodies the best of the North Shore. With a setting on nearly 1,300 oceanfront acres, our connection to nature is all-encompassing, immersing you in this dramatic landscape. From our stunning redesigned terraced pool deck with infinity-style water features to the five miles of pristine secluded beaches, ranging from secluded coves to legendary surf spots, Turtle Bay is guided by a deep respect for the land and celebrates Hawaii's natural beauty. So breathe it in, whether you're lounging by the pool, strolling a stunning beach all to yourself, or trying to catch a legendary wave.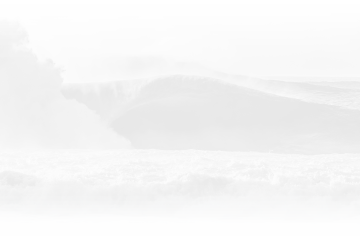 Pools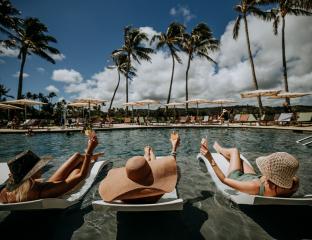 Pool Deck
Just beyond the lobby, infinity-style water features will lead you to a terraced pool deck with a new adults-only pool, redesigned family-friendly pool, and front-row views of the crashing waves and surfers just beyond.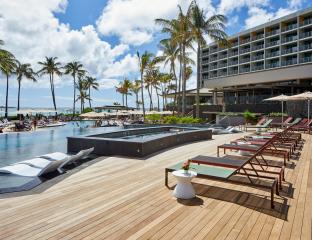 Adult Pool
With views of the breaking surf never further than a gaze away, the Adult Pool is a tranquil respite perfect for sipping Mai Tais, getting lost in a novel, or a relaxing soak in the hot tub.
Resort Main Pool
Our main resort pool and hot tubs are surrounded with ocean views, tropical flowers, swaying palm trees, and expansive space for family friendly frolicking.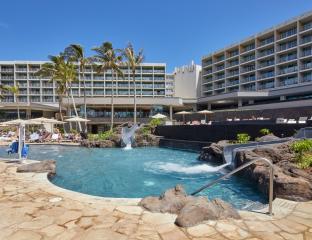 Keiki Pool & Slides
The new keiki (children's) pool area is home to two water slides...and days made up of sun-filled laughs. Time to make a splash.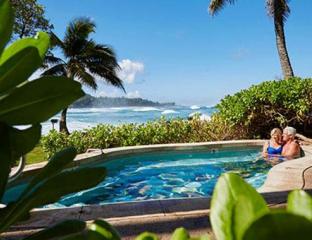 Hot Tubs
Take your pick from two hot tubs, one at the Adult Pool and another next to the Main Pool near Nalu Spa. Enjoy breathtaking sunsets and watching the surfers ride waves out on the point.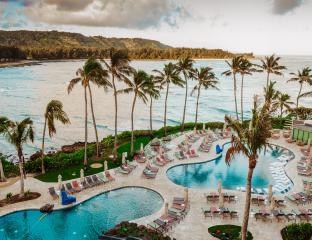 Pool Cabanas
Luxurious new cabanas and a new pool bar that serves up tropical drinks as you swim, lounge, and soak up the front-row view of the popular surf break just beyond the pool area.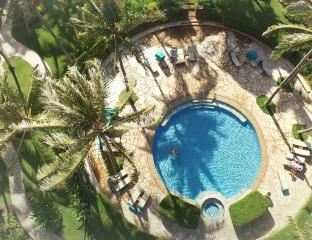 Ocean Villa Pool
Saying at the Ocean Villas? Enjoy exclusive amenities such as a private pool, courtyard, and barbecue area located just steps from Kuilima Bay.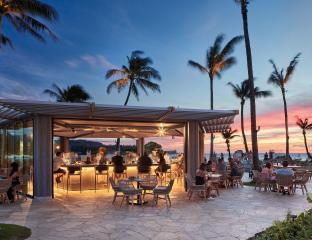 Sunset at Turtle Bay
Relax under an umbrella or bask in the sun. Get poolside service from our friendly servers and bartenders at Sunset at Turtle Bay, serving up farm-to-table food and Hawaii's best Mai Tai.