Roaming Romantics Itinerary
A beachfront adventure for two
Whether you're seeking a destination to celebrate wedded bliss, a chance to deepen your connection, or find new ways to spend time together, Turtle Bay sets the scene for a romantic escape. Create magical memories biking to a secluded beach, exploring local culture, paddling out into the crystal-clear waters for a turtle kayaking tour. And most of all, carving out your own quiet time to savor each other's company.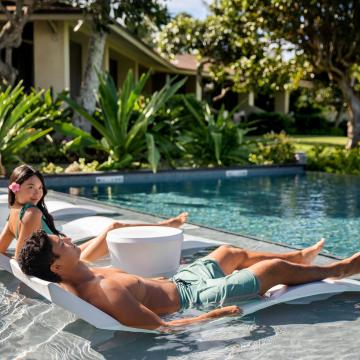 Day One
Settle into your Ocean Bungalow and make your way to the private infinity pool for a refreshing dip. 
Embrace island life with a signature Mai Tai from the pool bar while watching the surfers down below and vibing to the sounds of live music.
Enjoy a quiet dinner at Alaia, our signature restaurant for deliciously fresh dishes, crafted with an emphasis on locally sourced produce including our own 468-acre farm. 
Day Two
Fuel up for the day's activities with a breakfast buffet at Alaia.
Opt for relaxation or exhilaration (or both):

Treat yourself to an afternoon of restoration at Nalu Spa with a Coconut Pohaku (warm stone) Massage, which uses raw materials found in Hawaiian culture.
Soar to new heights and appreciate the island's breathtaking landscapes aboard a Doors Off Helicopter tour. 

Enjoy a beachside dinner at Beach House by award-winning chef Roy Yamaguchi. 
Continue the evening with handcrafted cocktails and live music at Off the Lip in the lobby.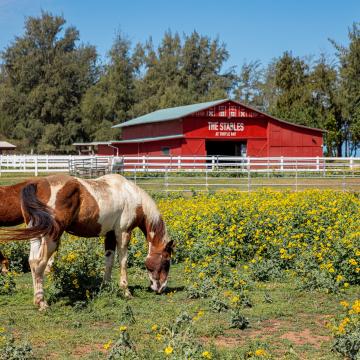 Day Three
Take a drive towards historic Haleiwa town. Enjoy Hawaii grown coffee while browsing through local boutiques and art galleries.
On the way back, stop by Waimea Bay. Known for its crystal-clear waters, big wave surf in the winter months, and cliff jumping from "Da Big Rock".
Ride into the sunset with a private horseback ride.
Spend the evening in, enjoying a champagne toast and a sumptuous meal for just the two of you in the privacy of your bungalow.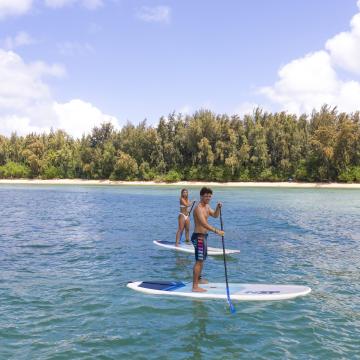 Day Four
Start your morning with sunrise yoga to get you going for the day's activity. 
Enjoy a sun-filled day on the water:

Spend the morning taking in the gentle waters of Kawela Bay by ocean kayak, and keep your eyes peeled for sea turtles.
Kawela Bay is also the perfect spot to navigate on a stand-up paddle board.

Experience a luau like you've never seen before. Our weekly Paniolo (Hawaiian cowboy) show features a delicious outdoor feast, along with live music, lei making, and a fire knife show.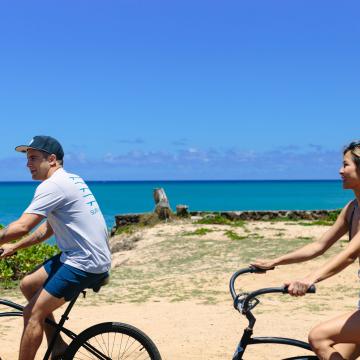 Day Five
Prepare for the day with coffee and on-the-go breakfast from Hoʻolana.
Take a morning bike ride to Kahuku Point, exploring native wildlife and tide pools along the way. 
Carve your love story into a keepsake you'll treasure forever with a Polynesian wood carving lesson.
Show off your pickleball skills and meet with fellow picklers at our weekly Drinks & Dinks. 
Enjoy a casual dinner at Lei Lei's, a favorite amongst visitors and locals.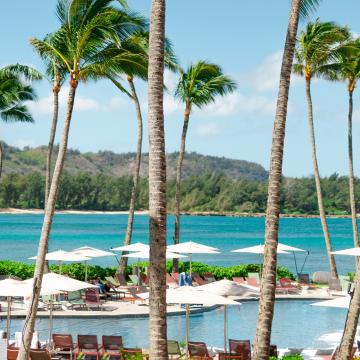 Day Six
Indulge in a farm-fresh breakfast buffet at Alaia. Fill up on local coffee and tropical fruit before your journey home. 
Enjoy your last moments in paradise lounging by the adult-only pool in a private cabana.