Frequently Asked Questions
Curious about Turtle Bay Resort? Please browse our frequently asked questions below. If you cannot find the answer to your questions, please don't hesitate to contact us directly. 
Turtle Bay is located on the North Shore of Oʻahu with close proximity to historic Haleiwa town and the legendary surf breaks of Banzai/Pipeline, Sunset Beach, and Waimea Bay. The resort is approximately 55 minutes from the Honolulu International Airport (HNL). Valet and Self-Parking are available for an additional $35 daily per car (1-24 hours).
Get Directions From the Airport
North Shore Connection is our on-site transportation partner, delivering convenient and reliable services. Schedule direct service to/from the Airport (HNL), and transfers to Waikiki and Ko Olina hotels.
Reserve Online
Car Rental can be reserved ahead with pick-up from the Airport at Enterprise Rent-A-Car.
Reserve Online
Taxi and Ride Share services around the North Shore area is very limited. Plan ahead when traveling outside of the resort.
When you're staying at Turtle Bay Resort, your visit is enhanced by the many services and amenities available throughout the resort, which are covered in the Resort Service Fee.
Our Daily Resort Service Fee differs by your room type and are outlined below:
Main Building and Ocean Bungalows: $49.00 + 17.962% tax ($57.80) per night
Ocean Villas: $90.00 + 17.962% tax ($106.17) per night
Included in Resort Service Fee:
Arrival Lei Greeting
Two Refillable PATH Water Bottles, with refill stations located throughout the resort
Unlimited Toll-Free Local & 60-Min of Domestic Long Distance Telephone Calls
High Speed Wi-Fi (10mbps)
Use of Beats Pill Speaker (based on availability, sign out through Housekeeping)
Daily Resort Activities (visit The Guide Post or see our Calendar of Events)
Use of Resort Cruiser Bikes (45-min per day/per guest, 2 cruisers per room, based on availability)
Beach Toys & Boogie Boards at Kuilima Cove (based on availability)
Beach Umbrellas and chairs at Kuilima Cove (based on availability)
Daily Basket of Range Balls (after 12 noon)
Admission to One Fitness Class of the day (visit Nalu Spa or see our website)
Use of GoPro Camera for up to 24-hours (SD memory card not included, sign out at Surf House)
One Hour Pickleball Court usage (sign out at The Guide Post)
Use of Business Center Facilities
NOTE: Resort Service Fee inclusions are subject to change. Special events not included.
Valet and Self-Parking are available for an additional $35 daily per car (1-24 hours).
Do you have EV charging stations?
Yes, there are four E-Vehicle charging stations available on-site. Additional fees will apply.
NOTE: Parking fees are subject to change.
Turtle Bay is perfectly situated on a peninsula on Oahu's North Shore. Where you'll find sweeping ocean views from every room.
To guarantee an oceanfront view from the top two floors of the main resort building, reserve a stay in a Premium Ocean View room or Ocean Club room.
Located on the 2nd to 6th floors of the main resort building, every Ocean View Suite is situated at the end of each wing which provides prime ocean views.
Elevate your stay in one of our Alii Suites, featuring two oceanfront balconies that lookout to the east and west.
The Ocean Bungalows are located just a few steps away from the main building. These one-story bungalows offer direct oceanfront views and a fully-furnished lanai that leads you right to the water's edge.
Check-in: 3 PM
Check-out: 11 AM
Should you require an early check-in or a late check-out, please contact us directly.
No, Turtle Bay is not an all-inclusive resort. Although there are no traditional all-inclusive resorts in Hawaii, guests can elevate their experience with all-day food and beverage offerings, added amenities, and dedicated concierge services in our private lounge. Book a stay in an Ocean Club guest room, suite, or bungalow for exclusive access. Click here to learn more.
Yes, we offer In-room Dining.
Breakfast: 6:00 AM - 10:30 AM
Lunch/Dinner: 11:00 AM - 10:30 PM
NOTE: Hours and menu are subject to change. Please call In-room Dining directly from your room phone.
Yes, non-resort guests are welcome to book a surf lesson with Jamie O'Brien Surf Experience. Learn More
Trail rides at The Stables are also open to No, Turtle Bay Resort does not offer a day pass. Learn More
Most amenities—including the pools, cabanas, beach equipment and complimentary resort activities—are exclusive to overnight guests staying at Turtle Bay Resort.
Ocean Villas are independently owned and only a select amount of villas are managed directly by Turtle Bay Resort.
Access to our resort amenities and facilities are exclusive to guests that book directly through our website or by calling Reservations at 866.475.2569. Our dedicated Operations Manager for Ocean Villas will contact you prior to your arrival to assist with any questions or requests.
If you booked your reservation through another website or rental agent, please contact them directly.
No, Turtle Bay Resort does not offer a day pass. Most amenities—including the pools, cabanas, beach equipment and activities—are exclusive to overnight guests staying at Turtle Bay Resort.
All Ocean View King, Ocean View Suites, and Ocean Bungalow rooms feature a pullout sofa.
Due to room configurations, rollaway beds and air mattresses are only permitted in Premium Ocean View King rooms and Ocean View Suites. They are available upon request (limited availability) and an additional charge of $25 per stay will be applied.
Turtle Bay Resort is a dog-friendly resort. Please review our policies below prior to booking.
Dogs are allowed in the Main Resort Building and Ocean Bungalows only.

Guests travelling with dogs must notify Turtle Bay Resort at the time of booking.

A one-time pet cleaning fee of $300.00 for dogs 35lbs and less, or $500.00 for dogs greater than 35lbs will be applied per room and charged with full deposit. Limit of one (1) pet per room.

Dogs must be accompanied by their owner at the time of check-in.
Please note that guests must comply with all state and local regulations, including state animal quarantine laws, prior to arrival. For more information, visit the Hawaii Animal Quarantine website.
Turtle Bay is a Non-Smoking resort. Guestrooms and balconies are Non-Smoking. In order to accommodate everyone, smoking is allowed in three designated areas near the Main Resort Building.
A minimum cleaning fee of $300.00 per sleeping space will be assessed if there is any evidence of smoking in a guestroom or balcony. This fee will be assessed on any form of smoke including incense, mosquito coils, vapor cigarettes, cigarettes, cigars, etc.
Out of privacy and safety concerns for our guests and employees, Turtle Bay Resort prohibits the use of drones, personal or commercial, without the prior written authorization from Resort management. This prohibition includes drones used for filming or videotaping, as well as any drone use by media or journalists operating above or within the Resort boundaries. Any violation of this policy may involve confiscation of any equipment, and may subject violators to any damages, including but not limited to, damages for violations of privacy and/or physical or personal injuries, or regulatory fines and legal fees.
Please carefully review and complete the Drone Policy Request Form then email it to [email protected]. Filling out the request form does not give permission. Written permission will be sent once request is approved.
If you lost or forgot an item, please fill out the form in the link below and our team will do their best to locate and return your item. We cannot guarantee items will be found or returned.
There is no dress code policy at Turtle Bay Resort, however some restaurants do suggest guests come in Resort Attire. Shoes and shirts must be worn in the main lobby and in the restaurants, excluding Sunset pool bar.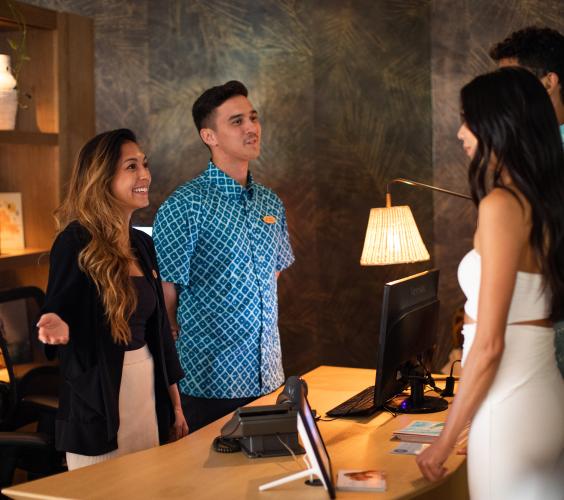 Online Concierge
Our online Concierge can assist with any request, from activities to dining and transportation services. Whether it's by phone or email, a local expert can get in touch with you before your arrival, so you can make the most of your stay.