 Ongoing Transformations at Turtle Bay
A wave of new experiences arrived at Turtle Bay in July 2021, and many more are yet to come.
After a year of quiet, the new Turtle Bay Resort reopened in July 2021. While we missed sharing everything that makes Turtle Bay a treasured Hawaii destination, we're pleased to announce a wave of new experiences for new and returning guests alike. Some of the transformations are here and waiting for you to make your Hawaiian getaway even more memorable. Others are yet to come. Read on and bookmark this post to follow along on our journey to bring you experiences you'll find Only at Turtle Bay.
EXPERIENCE IT NOW
New Entrance
By embracing Oahu's history, design, food, culture, and folklore, we pay homage to the island's dynamic heritage and reinvent it from the moment you arrive. Every aspect of the arrival experience has been redesigned, beginning with a relocated porte-cochère that welcomes you into a dramatically transformed lobby.
New Lobby
The lobby boasts massive windows that welcome light into the room and offer awe-inspiring views of the seemingly endless stretches of beaches, surf, and sky in either direction. To celebrate the local artistic community, large-scale works by Hawaii-based artists Nick Kuchar and Abigail Romanchak decorate the lobby. A new lobby cafe, Ho'olana, greets you with a panoramic view of the sunrise with gourmet locally sourced coffee and light bites.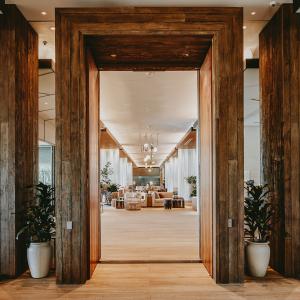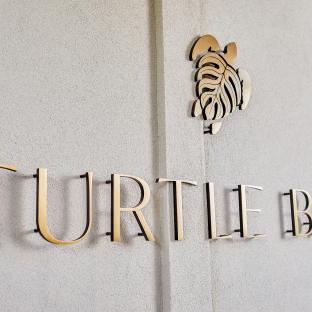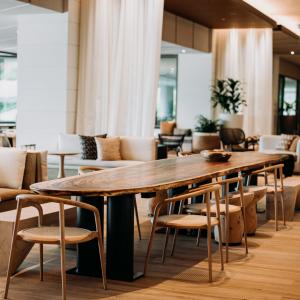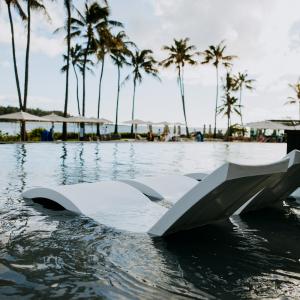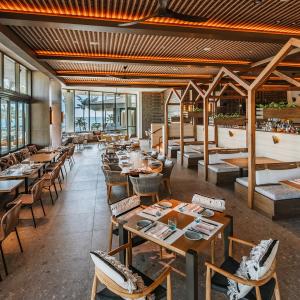 Adult-Only Pool and Off The Lip
Adults will indulge in the resort's adults-only infinity pool paired with the lobby bar, Off The Lip. The bar features a sunken footprint that provides unimpeded views of the breaking surf and brilliant North Shore sunsets. The adults-only pool serves as a tranquil respite perfect for sipping mai tais or getting lost in a great novel. 
Main Pool Deck Upgrade and Sunset Bar
The redesigned main pool deck offers an expansive space for family-friendly frolicking with a Keiki pool and main pool for all ages. The pools invite all to savor front-row views of the crashing waves and surfers playing just beyond. The pool deck also features luxurious new cabanas and a new pool bar, Sunset. Enjoy tropical drinks and delicious crowd-pleasers like grilled mahi-mahi sandwiches, pulled kalua pork nachos, and smash burgers as you swim, lounge, or soak in the view. 
Alaia Restaurant
The resort's leading dining destination, Alaia, evokes relaxed luxury. Its menu incorporates the North Shore's sustainable agriculture bounty, including produce from the resort's farm. Alaia refers to the first Hawaiian surfboards made out of wood. Be ready for a dining experience that focuses on locally grown vegetables, fruits, and sugarcane fabricated in many of the dishes. You'll have the opportunity to meet the farmers that inspire the unique menu, get personal with celebrity chefs, and even learn how to make the best mai tais on the North Shore.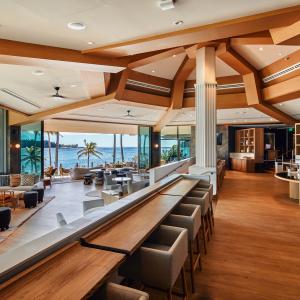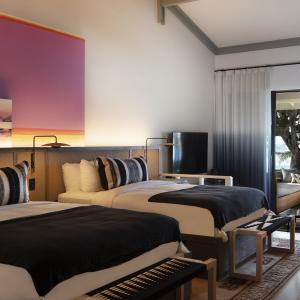 Ocean Club
Take your resort experience to another level with exclusive perks at Ocean Club Lounge, our premier lounge offering stunning views of the Pacific Ocean. Watch humpback whales splash and wave riders in the bay while enjoy refreshing drinks and food offerings throughout the day.
Surf House
Located in the lobby, the Surf House is a new retail space and gathering place. Surf House celebrates surf DNA and its deep connection with the North Shore community. The Surf House will become a destination for surfers and fans of surfing alike to come together and celebrate the sport. The Surf House will feature tributes to surfing icons and a curated retail experience, including vintage surf gear. 
Ocean Bungalows
Grouped in clusters of six, the Ocean Bungalows provide an intimate, secluded experience within the larger resort, where an exclusive concierge tends to your every need.
Kuilima Farm
In Hawaiian, Kuilima means joining hands. It's a joint venture between the local community and Turtle Bay Resort. Kuilima Farm is an excellent place for guests and locals to mingle while enjoying the aina (land) and all it provides. Watermelon, corn, bananas, and so much more are grown fresh at Turtle Bay's Kuilima Farm. Guests will have the opportunity to tour the farm and get to know the farmers that provide for the resort's menus. Community members currently maintain and care for their own 10 x 10 plots at the farm as well.
COMING SOON
New Guest Rooms & Suites
To complement the Ocean Bungalows, Turtle Bay Resort is unveiling newly renovated accommodations in the main tower. Taking cues from the natural beauty of the North Shore, the rooms will offer guests a calming, meditative experience within the larger resort, with large balconies featuring daybeds, surf photography from North Shore artists on the walls, oversized bathrooms with soaking tubs, and natural furnishings that bring the outside in. Plan ahead to experience these newly renovated rooms in Spring 2022.
Bookmark this blog post and follow along on Instagram (@TurtleBayResort) for updates as we announce new transformations.