 Pitch n' Putt Course
Kick off your sandals and embark on a blissful golfing experience, Turtle Bay's new Pitch n' Putt, a charming 3-hole golf course nestled within the stunning George Fazio course. This delightful course offers a laid-back and fun escapade for guests looking to enjoy a leisurely game of golf walking along the scenic fairways to each of the Par-3 holes. As you start your golfing adventure, grab your favorite drink from Lei Lei's restaurant, and with drink in hand, venture on a casual stroll through the course.
Begin with a practice session at the designated target area, where you can warm up your swing and hone your skills before diving into the main course, or make a friendly game amongst other players. With the cool breeze, grass between your toes, and the serene surroundings of Turtle Bay Resort, you'll feel at ease as you tackle each hole. But ready for a little challenge? One of the holes on the course features a fun water hazard. To conquer this obstacle, you may need to harness your precision, adding an extra touch of excitement to your game.
So, grab your club, enjoy a drink, and let the good times roll as you experience the easy-going atmosphere of Pitch n' Putt at Turtle Bay Resort.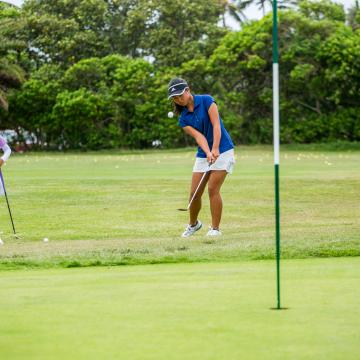 Tee Up
Course Info
Year Opened: 2023
Holes: 3
Par: 3
1 Practice Target
1 Water Hazard
Hours: 7am - 6pm, Walk-Ins Only
Location: Fazio Course next to Golf Shop