For years, you've been dazzled by surfing. Whether it's simply being surrounded by the ocean, the physical act of gliding on water, or an excuse to get a fun workout, surfing has called your name. Now that you're finally here at Turtle Bay, you're ready to take the plunge and dive on in. But before you catch your first wave, we've taken the liberty of listing three things you have to know before you first pop to your feet.
It's hard. We're going to go out on a limb here and state that surfing is the hardest sport on the planet to master. Golf can't hold a candle to surfing. Sound like a bunch of hyperbole? Not quite. While it's quite common to be up and riding on your very first surf lesson, reaching a top-tier status will take you decades. That being said, while being a phenomenally talented surfer may sound cool, we're huge advocates of surfing simply for the fun of it. As famed surfer Rabbit Kekai once put it, the best surfer in the water is the one who's having the most fun. Keep the bar low, and enjoy surfing for what it is: a whole mess of fun.
It's safe. At Turtle Bay, you'll find that our in-house surf instructors are knowledgeable, friendly, and professional. The Pool Bars lineup, where most of the lessons take place, is the ideal place to learn. The waves are soft and roll through the lineup at a cadence that makes them perfect for learning. Yes, there's a touch of reef underneath the surf, but typically it's too deep to be of any concern. Between the watchful eyes of your instructor and our perfect setup, you won't find a safer venue to catch your first wave than at Turtle Bay.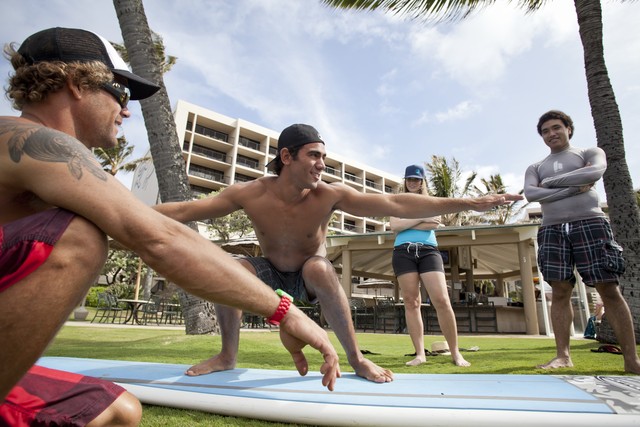 You'll fall in love. Be prepared for this one: the first time you pop up to your feet and feel the force of the ocean propelling you forward, you'll want more. "Again!" You'll exclaim. There's a reason surfers are willing to drop it all at the drop of a hat to get in the water: It's addicting. There's a good chance that your first surf lesson won't be your last.